Web
Donna Striebe is a well known Interior Designer with work spanning the entire East Coast of the US. Having worked with Donna starting with retrofitting her past website to be mobile friendly almost a decade ago, her work has kept at a steady pace ever since. With new technologies arising, she requested a complete re-design to keep her work looking fresh and modern, with imagery to fill any screen the viewer happened to be on. With work consistently flowing in, it was decided to go with a CMS to have better control over managing her projects.
WordPress is used as the CMS, CSS/SCSS for responsiveness/interactions and JavaScript for functionality.
Darren Lyons is an NYC Jazz Drummer and has been a staple of the Jazz scene since the 1990's. Work with Darren has been ongoing for over 15 years and has involved updates and additions to his website. Recently, Darren requested a complete re-design to simplify and focus on his content while still keeping the feel of an established artist. He also wanting to make the site accessible to his 'on-the-go' audience as his engagements can be local and far reaching; so we made sure to keep focus on the mobile aspect of it's usability.
The technologies used are PHP, Javascript and CSS.
William S. Dutterer Trust
The William S. Dutterer Trust website was made for the late – great – painter, William S. Dutterer. The project involved logo design and UI design and included the art direction of well known art advisor and curator, Kimberly Marrero.
The website is built on the WordPress platform with a Fully Custom Theme using PHP for customized pages with navigation, CSS/SCSS for responsive layouts and JavaScript for animation.
Pascale Grisé's website was made for Pascale as a portfolio piece for her work as a Creative Director, Fashion Stylist and Style Consultant. The project involved cataloging large amounts of press material from many campaigns and image editing.
The website is built on the WordPress platform with a fully Custom Theme using PHP for customized pages, CSS/SCSS for responsive layouts and JavaScript for animation.
Logo
Djuna Passman Yoga
An established instructor, Djuna requested a logo to best reflect the principles of her work. After many sketches, the logo above was identified to be most representative of the practices of calm, balance and strength. Adobe Illustrator was used to accomplish this work and, as a vector file, give her the ability to use it throughout her marketing material easily without a loss of quality.
Chrysalis Pilates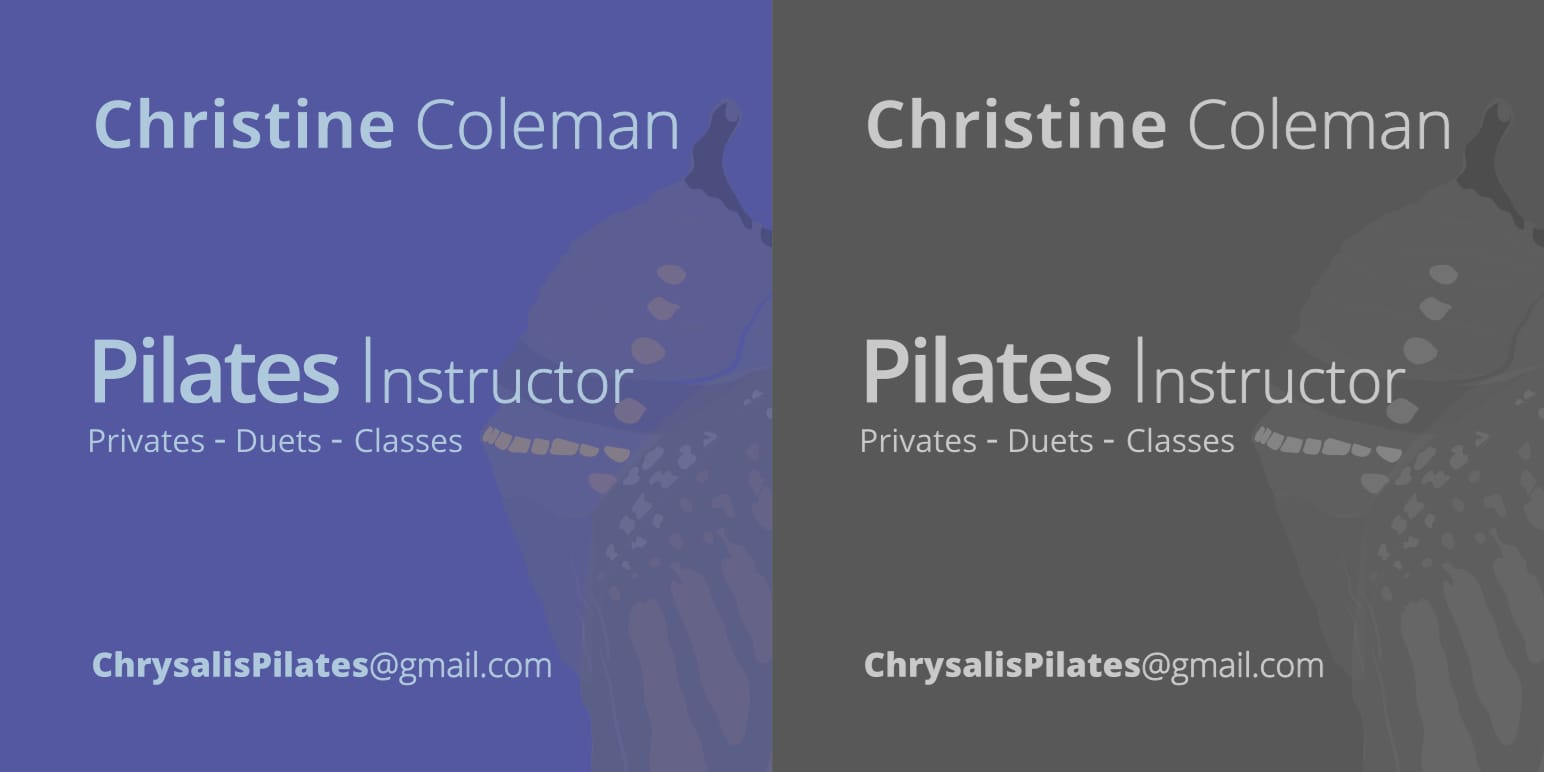 New to the pilates field, yet an accomplished dancer/choreographer, Christine has the innate ability to see motion / movement clearly. Her focus to to help others transform themselves to become stronger and more confident. With Chrysalis Pilates, a fantastic name to instill this vision, a decision to be visually literal was the direction she wanted to go. This project began knowing that vector work would be needed. So with a ever-forward seeking eye, we focused on utilizing the new Affinity Designer by Serif Labs to produce all work.
Dutterer Trust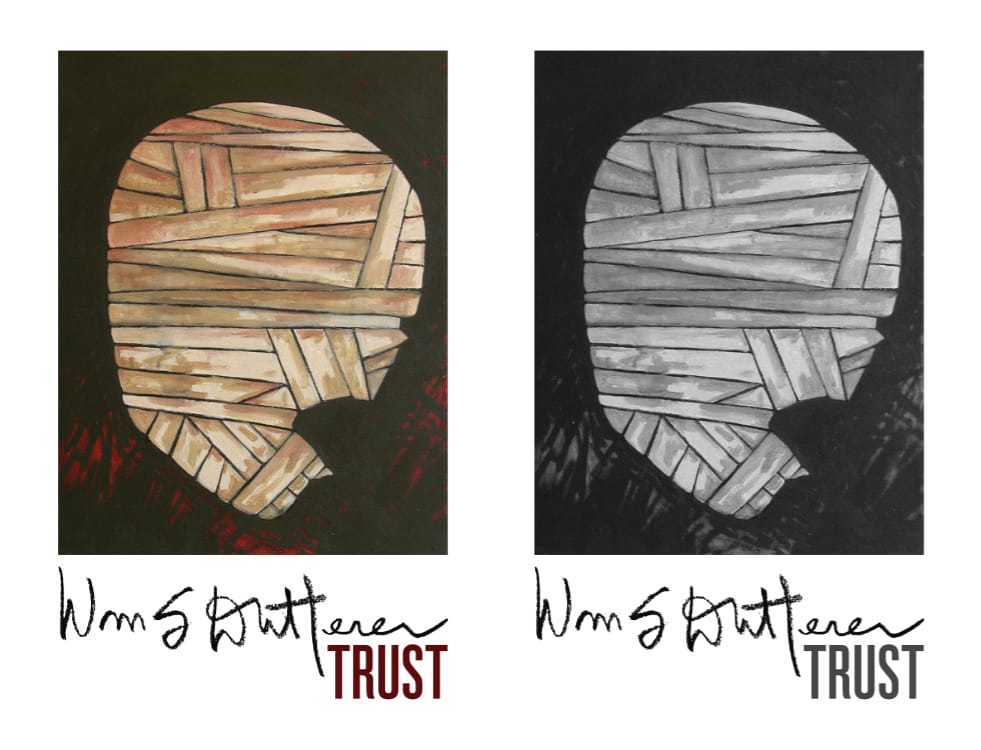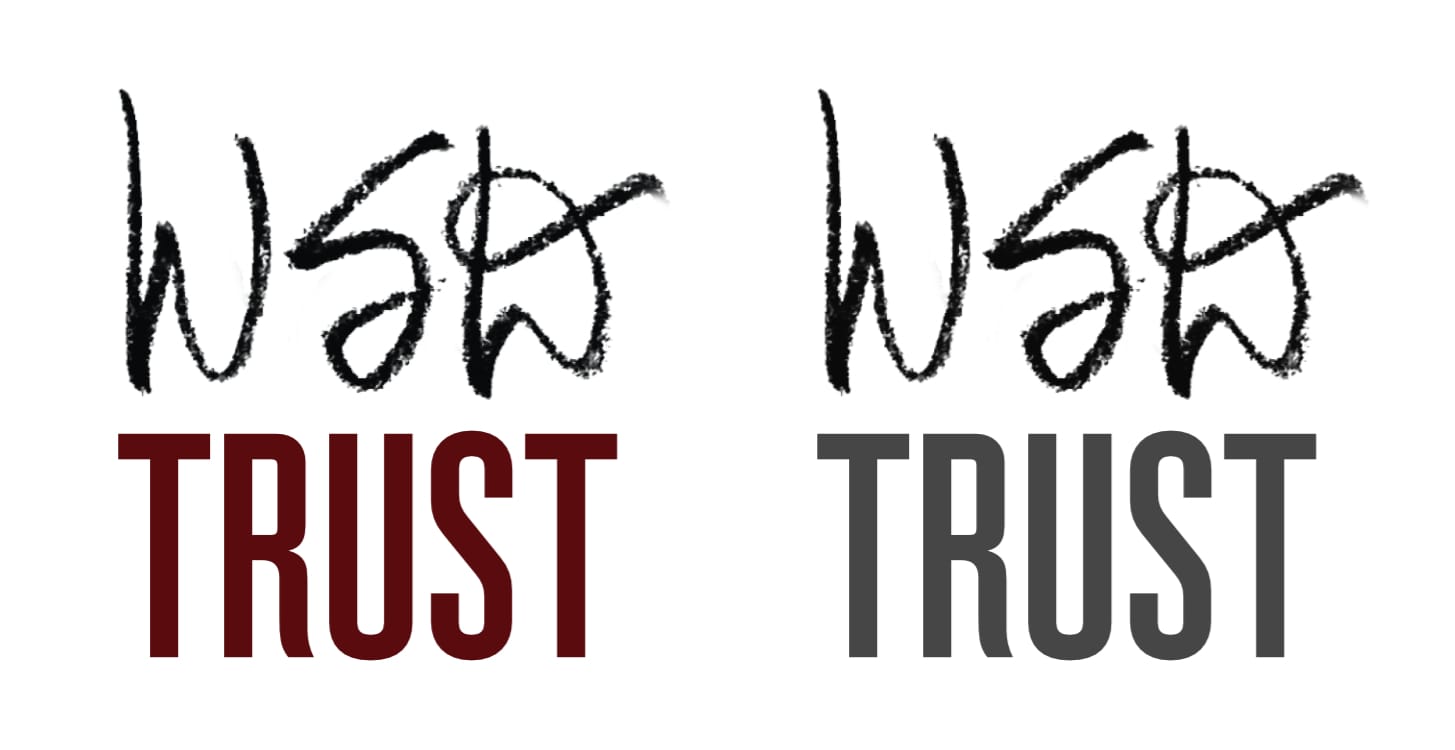 To compliment the website, Dutterer Trust requested a logo utilizing a piece of William's paintings. The above piece was selected as an overall representation of his message underlying in all his work; His signature was also requested to be used as a personal touch. Affinity Photo was used to create all work with it's new addition of artboards to keep everything organized.
HIFI Underground
HIFI Underground, a production company, requested a logo which conveyed established roots in the field without overshadowing the clients they represented. B&W was chosen to be bold, yet with the ability to stand back and let who they are associated with shine. Adobe Illustrator was used to create the work.
gotham nomads
The gotham nomads art group was looking for a logo that represented their gritty roots, yet had a positive connotation to inspire those within the group. Many sketches led to the above with the realization that they wanted to convey to 'keep your head up' and stay simple. Adobe Illustrator was used in the creation of this work.
Blacklight Sessions
The Blacklight Sessions is a podcast focused on shedding light on the underground creative scene through introductions / interviews of musicians, painters, videographers and other creative storytellers. The podcast was always recorded by candlelight, so they requested a logo to represent that creative scene. The work is completely vector and created in Adobe Illustrator.
Print
gotham nomads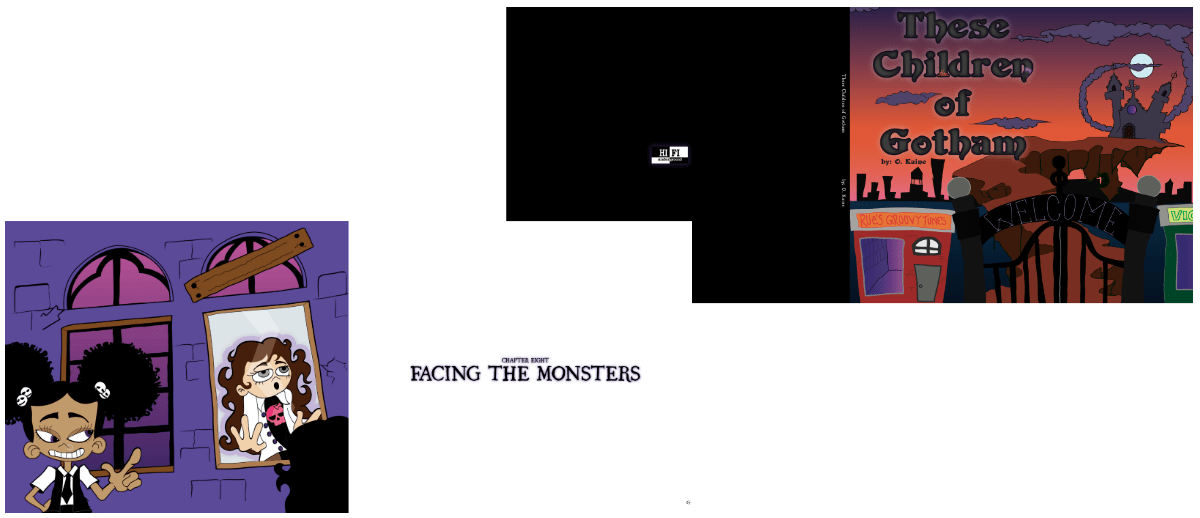 As the first project work on the the gotham nomads, the brief was to create 3×5 postcards to hand out for a couple events including spoken word and gallery shows. After concepts were presented, they also added in a tri-fold for the main gallery show. Later on, they got back in touch to work on a full length children's book; this also included a read-along CD which was produced using Apple Logic. The print work was created using Adobe Photoshop (for the 3×5 postcards) and Adobe InDesign for the tri-fold and children's book.
Video
gotham nomads
The gotham nomads is an art group started in NYC, but branching out nationwide with a focus on community social awareness. Tasked with creating an Intro to their art project based around the passing of Nixmary Brown, These Children of Gotham was centered around the necessity of community and instilling communication among the youth. The project involved vectorization of sketches using Adobe Illustrator, modern / journalistic typography pairing, scene setup and animation using Adobe After Effects, music production using Apple Logic and final production using Adobe Premiere.
Advertising
AOL
AOL was the first client in the Advertising field. Tasked with creating animations based on supplied PSD stills, the greatest concern was file size. This was accomplished by converting files to a vector format while keeping colors and gradients consistent. Those initial animations (above) lead to applying this technique to various sizes, implementations and scenarios with the "Running Man" character.
HSBC
With HSBC, animation work was shifted from Flash's timeline to programmatic animation. With the onset of ActionScript 2, and eventually AS3, programmatic animation helped drastically reduce file sizes to deliver ads dramatically faster and helped speed up page load speeds. With these new techniques, the move into international ads was a welcome addition.
American Express
American Express was extremely interested once the onset of programmatic animation was in full swing. Tasked with the challenge of more complex animation and additional raster graphics, the main focus was on the balance of resolution and file size. The timeline was completely removed and all animation created with AS3.
Vonage
Vonage, understanding the new-found advantages of programmatic animation, requested quite complex animations; thankfully, they agreed to the vectorization of all graphics to accomplish this. The challenges with their project was the addition of a look / feel of depth and dust effects. With research, and the new capabilities of AS3, this was found to be feasible with just a bit of extra research and work.
Suntory USA / International
Suntory requested an internally distributed file to pass to their partners for the Holiday Season of 2011. Their main request was focused around the background animation having a 'sparkle' to accentuate the existing product line. AS3 was used to achieve the effects and animation.